Inclusive Excellence in Life Sciences is an approach to education that promotes a positive research and learning environment in and outside of the classroom so that all undergraduate and graduate students and researchers at UCLA can thrive—regardless of race, ethnicity, socio-economic status, first-generation college student, immigration status, gender, sexual orientation, or disability. Read more
UCLA admits the top students from the largest undergraduate applicant pool in the country and they will be the next leaders in the scientific workforce of all kinds. Our professors are a committed group of leading scientists and educators who are changing how we teach, how we mentor, and how we support students to ensure that every student has an equal opportunity to excel and graduate with an outstanding science education and the skills to define their own future.
The Mentor Professor Initiative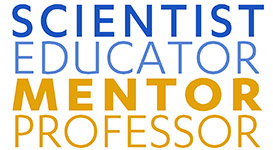 UCLA Life Sciences is building a community of stellar scientists who are leaders in their fields, with a commitment to inclusive excellence.
The Dean's Scholar Program
The Dean's Scholar Program provides outstanding undergraduate students, from underserved and/or underrepresented groups in science, with the opportunity to participate in our lower division and upper division mentorship and summer research programs. These opportunities improve student retention, help qualified students get into top graduate programs, and enhance success for all careers in science.
In March, UCLA's Divisions of Life and Physical Sciences sponsored a two-day workshop/retreat to familiarize key faculty leaders with the best practices for educating a diverse population of students, including […]
When Paul Barber completed his Ph.D. in 1998, his graduate school adviser at UC Berkeley praised his work, half-jokingly took some credit for his success and made a request.
Twenty-eight outstanding undergraduates from across the country are spending eight weeks at UCLA this summer, conducting research and learning the latest data analysis techniques and skills that are transforming the biosciences.