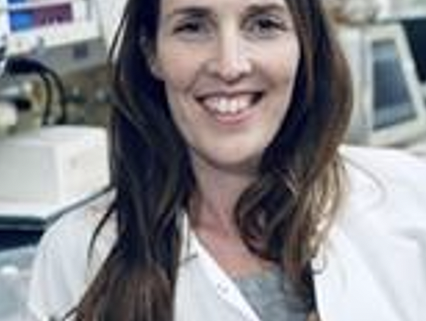 April Pyle Awarded Inaugural Ayoub Centennial Chair
April Pyle, professor in the Department of Microbiology, Immunology and Molecular Genetics, has been selected as the inaugural holder of the George and Nouhad Ayoub Centennial Chair in Life Sciences Innovation. The Ayoub Chair was made possible by a gift from UCLA alumnus George Ayoub and his wife Nouhad Ayoub.
Pyle, a member of UCLA's Eli and Edythe Broad Center of Regenerative Medicine and Stem Cell Research, focuses her research on human pluripotent stem cells, which can self-renew as well as produce any cell type in the body through a process called differentiation.
"April Pyle's groundbreaking work is unlocking the potential of stem cell-based treatments for diseases such as cancer and muscular dystrophy," Dean of Life Sciences Tracy Johnson said. "Endowed chairs like the Ayoub Chair are an important way we can recognize talented faculty members while supporting their research. We are extremely grateful to George and Nouhad Ayoub for their gift, which will have an impact on many lives for years to come."
The Ayoub Chair is awarded for a term of five years to support the teaching and research activities of a faculty member in the Division of Life Sciences whose research is in any area of life sciences, ensuring representation of a cross-section of academic fields.
"Supporting innovation in the life sciences is incredibly important to me. I am delighted that April Pyle, an accomplished faculty member who's making her mark in vital stem cell research, will be the first holder of the Ayoub Chair," said George Ayoub.
Pyle is studying how pluripotent stem cells differentiate into skeletal muscle cells, which are affected by many muscle-wasting disorders, including Duchenne Muscular Dystrophy, a lethal genetic disease that affects approximately 1 in 5,000 boys in the U.S.  Pyle's extensive study of the biological underpinnings of Duchenne muscular dystrophy has led to several significant breakthroughs, each of which represents a major step towards the development of a cell replacement therapy for Duchenne.
Another aim of Pyle's work is to identify the signals that balance survival and self-renewal in stem cells in order to prevent instability that can lead to tumor development. Cancer is caused by mutations to genes that lead to abnormal cell growth and, like other cells, stem cells are vulnerable to this cancer-causing mutation. By examining how stem cells survive, differentiate and self-renew in a dish, Pyle hopes to uncover how this process may go awry and lead to cancer. It is her hope that this understanding could help to improve clinicians' ability to prevent, detect or treat cancer.
Pyle said, "The Ayoub Chair will enhance our ability to perform pioneering research, ensure inclusive teaching, and accelerate basic discoveries to translation. As I say to my lab members, 'Dream Big!' Now, we can."
Recently, Pyle co-led an interdisciplinary team of UCLA researchers that developed a first-of-its-kind roadmap of how human skeletal muscle develops, including the formation of muscle stem cells. Moving forward, Pyle and her colleagues will focus on harnessing this new resource to develop better methods for generating muscle stem cells from human pluripotent stem cells in the lab. She hopes that by focusing on the stem cell–associated gene expression networks and supportive cell types they identified, they can produce high-powered muscle stem cells that can be useful for future regenerative therapies. In addition to research and teaching, Pyle serves on the Dean's Life Science Diversity Advisory Committee, which is working to improve the climate of inclusivity on campus.
George Ayoub received his B.S. in Biochemistry from UCLA in 1975 and his M.B.A. from Pepperdine University. In 1984, with the late Paul Terasaki, he co-founded and previously served as chief executive officer and president of One Lambda, Inc., a transplant diagnostic company. In 2012, One Lambda was purchased by Thermo Fisher Scientific. He is the cofounder and CEO of QWIXEL Therapeutics, a startup established in 2016 with a focus on cancer treatment. He served as chair of UCLA's Life Sciences Centennial Campaign Board, and is on the oversight committee of the UCLA Technology Development Group. The Ayoubs have supported UCLA for more than 17 years.