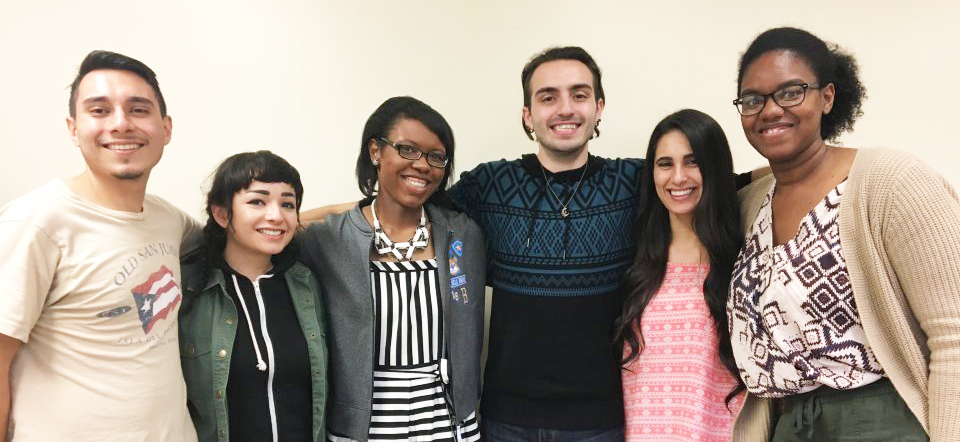 Professor Brannon (third from left) with students in the Culture and Contact Lab at UCLA
UCLA psychology professor Tiffany N. Brannon, and her co-author Andy Lin, are the 2021 recipients of

the prestigious

 Otto Klineberg Intercultural and International Relations Award, for their recent paper:

"

Pride and Prejudice" Pathways to Belonging: Implications for Inclusive Diversity Practices Within Mainstream Institutions

". The award is presented by the

Society for the Psychological Study of Social Issues, for the year's best research paper 

in the field of intercultural and international relations

. Brannon and Lin's paper was praised by the award selection committee

for its "original, timely and highly innovative contribution to the study of intercultural relations, and for its potential to have wide-ranging influence in this field."
Brannon provides insight and context for the award-winning research, in an article published by the Society for Personality and Social Psychology. In the article, she describes how a person's social identity can be associated with negative attributes–like prejudice, stigma, stereotypes, discrimination; and also with positive ones–like pride, resilience, and sense of connection to others in their group. With this lens,
Brannon and her co-author examined the experiences of Latino/a/x and African American college students, across 27 college/university campuses. They found that "pride" experiences (i.e. taking a class in Latino/a/x or African American Studies) were associated with institutional belonging and improved outcomes of well-being and measures of academic success (i.e. less depression, better health, fewer missed school days, higher graduation rates and grade point average). "Prejudice" experiences (i.e. hearing a derogatory racial/ethnic remark) were negatively associated with institutional belonging, well-being and academic success. 
By implementing policies and practices that 
promote pride and 
reduce prejudices
, Brannon says leaders in academia could promote a sense of belonging, and, in turn, also improve academic and health outcomes for students on their campuses.
UCLA social psychologist and professor, 

Tiffany Brannon has dedicated her research career to improving well-being and academic outcomes for racial/ethnic minorities.
You can learn more about her Culture and Contact Lab at UCLA, here.