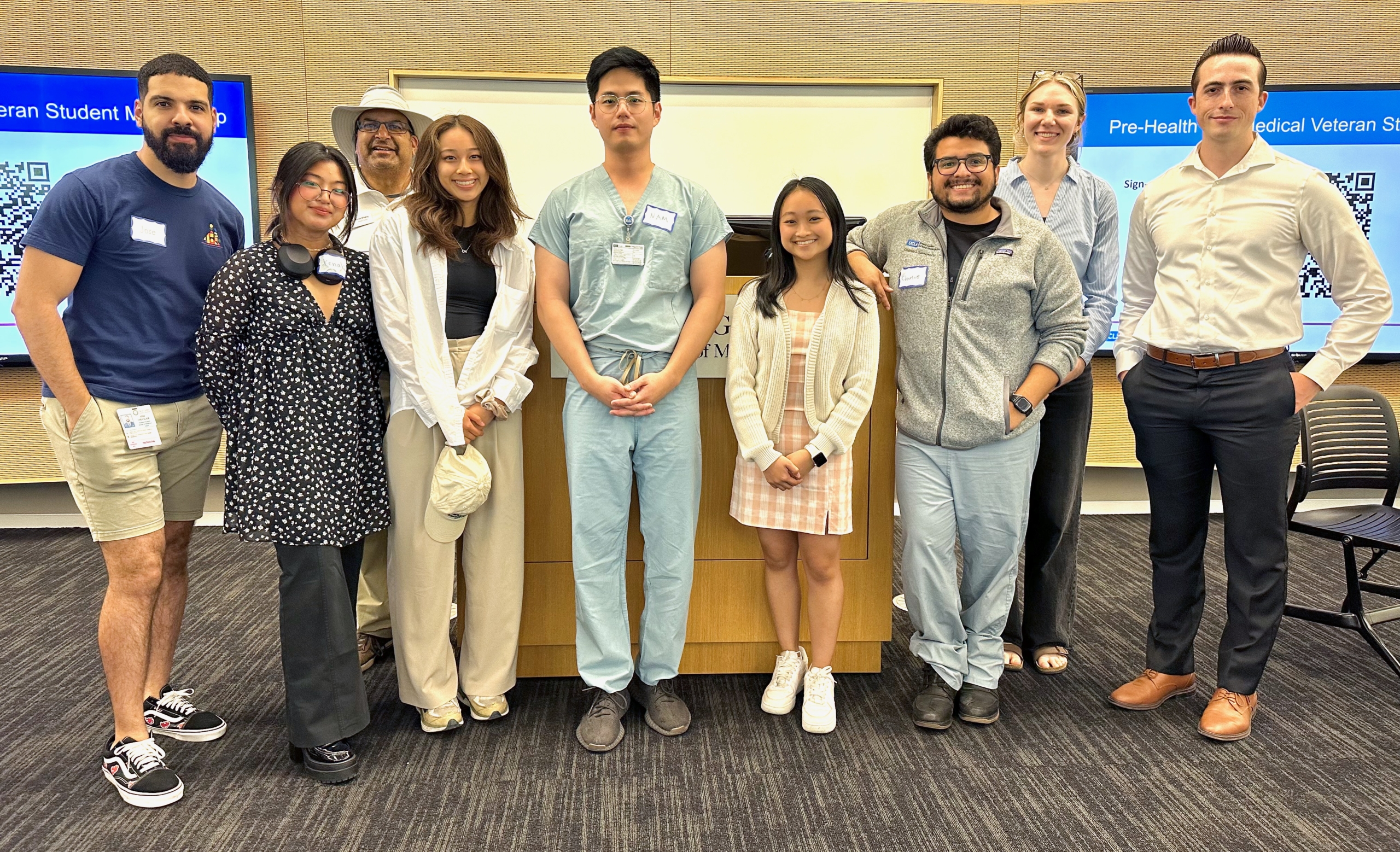 Oren Morgen '23 (far right) with fellow leaders and participants of the UCLA Pre-Health Program for Military-Connected Students (Photo credit: J. Barber-Choi)
November 10, 2023 | UCLA Life Sciences
Graduating with a bachelor's degree is far from the national norm. According to the U.S. Census Bureau, about 38% of U.S. adults, 25 and over, have earned a bachelor's degree. Getting into college, affording the costs, and fulfilling a long list of graduation requirements over four (plus) years – there are challenges at every step.
For UCLA neuroscience graduate Oren Morgan '23, it wasn't always clear whether he'd go to college, let alone receive his degree from UCLA. Growing up, his home life wasn't conducive to doing well at school, and his high school GPA reflected that. With poor grades and no way to pay for college, he followed the lead of close family members and enlisted in the military.
Morgan (back row, center) with his team in 2016 (Photo courtesy of Oren Morgan)
For nine years, Morgan served as an infantryman in the U.S. Army special forces –including a deployment to Afghanistan – before transitioning out and quietly starting community college.
"I didn't tell anyone at the time," said Morgan. "I was really nervous because of my high school experience. I was unsure of what I was capable of. A lot of veterans deal with this."
Going back to school, Morgan applied his military work ethic to his schoolwork. He began to earn good grades in advanced STEM courses, started tutoring and encouraging fellow student-veterans in STEM subjects, and began to consider transferring to a four-year university.
Fast forward to 2020, when mentors who saw his strengths and leadership, began encouraging him to apply to UCLA. While UCLA was ranked as one of the best universities for veterans, the fact that it was also the nation's number one public university was intimidating.
"I never imagined UCLA was a place I could go," said Morgan. "In my mind, people at UCLA are high achievers, phenomenal individuals, and world-renowned. I didn't believe I fit in."
Before applying, he had an opportunity to visit UCLA, and it was on this trip that he found his motivation. As he drove in along Wilshire Boulevard, he was moved by the symbolism of the West Los Angeles Veterans Administration and National Cemetery prominently marking his approach to campus.
"It made me realize that I'm not just doing this for myself, I'm doing it for the people at the VA. Certain individuals I served with didn't have the opportunity to come home. They didn't have the opportunity to utilize their G.I. bill to go to college."
Morgan applied to UCLA, got in, and enrolled as a transfer student in 2021. He chose the neuroscience major to understand the biological basis behind the most serious medical problems faced by the veteran community: traumatic brain injury, mental illness, PTSD, and sleep disorders.
At UCLA, he found all his neuroscience courses engaging, but there was one course in particular, Neurobiology of Sleep, that profoundly altered his understanding of science and shaped the remainder of his time as a UCLA undergraduate.
"In lower-level science classes, we learn about theories accepted 200 years ago, but many of the theories on sleep are still being tested at the forefront of science," says Morgan. "Theories are evolving every day. In this class, a researcher presented evidence for one conclusion, then another researcher presented evidence for a very different conclusion. Most people don't get to see this evolving part of science, and as a student in this class, you get to see how science works."
Immediately following a lecture on sleep and PTSD, Morgan went to meet with the speaker, Professor Gina Poe, to learn more about this subject that plagued so many people he knew.
"Dr. Poe gave me advice on how I could approach individuals in my life that are dealing with these issues now," said Morgan. "She also talked about her research, and invited me to her lab."
Morgan took her up on the invitation, and eventually began research in Dr. Poe's lab. Although he graduated in June, he's continuing with research, and for now, the lab is his second home.
"Dr. Poe is always learning and meeting other experts to help advance research. Every day I learn something new in the lab," he said. "I know that what I'm doing now will be part of a future solution to help the individuals I know that are suffering. I came to UCLA as a neuroscience student, so I could learn and help my friends and family that have PTSD. There's no cure, and they seem forgotten. Working with Dr. Poe and the people in her lab, has allowed me to be part of finding a solution."
Oren Morgan and Dr. Gina Poe (Photo courtesy of Oren Morgan)
Morgan has his sights on medical school so he can help fellow veterans as a physician. Last fall, he helped establish UCLA's Pre-Health Program for Military Connected Students to provide a community for student veterans and military-connected students who are pursuing careers to improve the health and lives of veterans and their families.
In June of this year, Oren Morgan received his bachelor's degree in neuroscience, and graduated as one of the top students in his program.
Oren Morgan with his mother and grandmother at graduation (Photo courtesy of Oren Morgan)
"I couldn't have imagined that could happen," he said. "It was the experience that the military gave me, that community college gave me, and the support of the Veteran Resource Center and of the individuals around me."
As he walked across the stage at graduation, he saw his grandmother in the audience, and was struck by the meaning of that moment.
"My grandmother is the strongest woman I know. She migrated from Mexico, worked in the fields, and had done so much in her life. I'd never seen her cry before. Seeing her at UCLA, and seeing her cry, made me see the long path my family and I had taken to be there, and how life-changing this event was for my family," Morgan said. "It's not just about me. Now my family will always have an alumni from UCLA, and it's going to open the door for everyone in my family – everyone I'm connected to will have that."