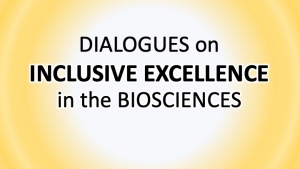 In January 2021, UCLA Life Sciences, in partnership with CEILS, launched Dialogues on Inclusive Excellence in the Biosciences– a space where our faculty, staff, graduate students and postdocs could learn, reflect, share and act to improve the climate for inclusion within our life sciences community. The Dialogues centered around a lecture series: A Call to Action–Striving Towards Inclusion in Academic Biology, sponsored by the Society for the Advancement of Biology Education Research (SABER). The lectures illuminate different barriers and pathways to inclusive success in academic biology. By learning together, we hope to educate ourselves and explore possible ways we can improve our climate of inclusion.
You can watch/join the September 2021 – March 2022 SABER talks here.
You can watch the January – May 2021 SABER talks, that grounded our conversations, here.
Please reach out to CEILS with any questions or concerns: media@ceils.ucla.edu